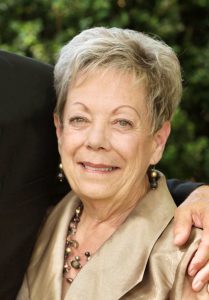 Susan King Stoklasa,75, of Lady Lake Florida originally of Hot Springs, Virginia passed away peacefully, the morning of Wednesday January 25, 2023. Our beloved mother was born May 13, 1947 in Clifton Forge, VA to Henry Lee King Jr. and Carrie King (Bonner).   She was a devoted and loving wife to George, the love of her life, for 42 years.
She was a long-time member of the Warm Springs Presbyterian Church. Susan lived out her faith and Love for God by loving people. Susan never met a stranger. Her smile and love for others was felt by all who met her. She was an avid cook and loved making holiday treats for her neighbors.  She loved spending time outdoors whether it be a boat ride or golf cart ride in the neighborhood with George.
She is survived by her husband George Emil Stoklasa: two children, Sean Kenney and wife Mary Beth of McKinney, Texas, Laura Connell and Husband Dave of Tampa, FL; five grandchildren; Amy Stoklasa and Chris Lushine of Chicago, IL, Karen Briceno and husband Lolo of Chicago IL, Linda Stoklasa-Craig and husband Max of Chicago, IL, Morgan Kenney and Madelyn Kenney of McKinney, TX and Stephanie Stoklasa; 7 great-grandchildren, Jack and Dylan Lushine, Cheyenne, Izayah, Gabriel Briceno, Bradley Schmidt, and Hugo Craig.
A funeral service will be conducted at 1:00 p.m., Thursday, February 2, 2023, at the Warm Springs Presbyterian Church. Interment will be in Warm Springs Cemetery.
The family will receive friends Wednesday evening from 6:00 – 7:00 p.m. at McLaughlin & Young Funeral Home.