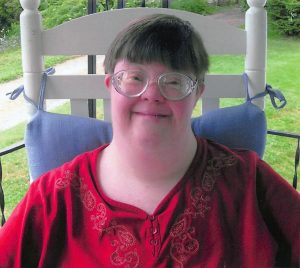 Tammy Lee Hicks, 55, of Hot Springs, Virginia passed away peacefully Monday, December 13, 2021, at her home.
She was born August 28,1966 in Bath County Hospital, Hot Springs, the daughter of Annabell Green Chestnut and the late Grey Lee Hicks.
She attended Virginia Chapel United Methodist Church. She loved watching football and western shows on TV.  Tammy never met a stranger…she loved everyone! One of her favorite pastimes was to ride with her stepfather, Burlie, in the Hot Springs Fire Truck in the various parades in Hot Springs and surrounding areas. She attended all of the events held by the fire department and was their #1 fan.
She was "perfect here on earth and more perfect now in heaven".
She is survived by her mother and stepfather, Annabell Green Chestnut & Burlie Chestnut of Hot Springs; a sister; Tina Johnson and husband Bill of Harrisonburg, Virginia; special nephews and a niece, Andrew, Ryan, and Lydia Johnson all of Harrisonburg.
She was preceded in death by her father.
Close friends and family may attend the interment which will be held at 1:00 p.m., Sunday, December 19, 2021, in the Mountain Grove Cemetery. All are invited to attend "A Celebration of Tammy's Life" which will follow at Virginia Chapel United Methodist Church beginning at 2:00 p.m. with Pastor Sang Lee, Phillip Layman, and Denny Hansford officiating.
The family will receive friends following the service in the church Fellowship Hall.
Memorial contributions may be made to Hot Springs Volunteer Fire Department, PO Box N, Hot Springs, VA 24445 .