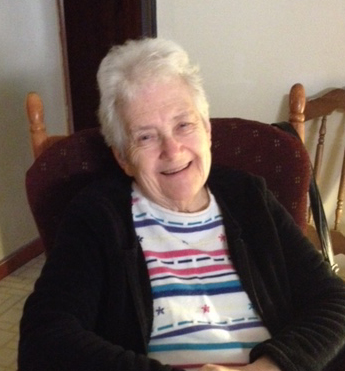 Thelma "Miss Polly" Leuellyn Bird Keyes Chestnut, 86, of Warm Springs, Virginia passed away Friday, March 05, 2021 at the Springs Nursing Center in Hot Springs, Virginia.
She was born May 11, 1934 in Bath County, Virginia, the daughter of the late Alden Robert Bird and Mary Margaret Curry Bird.
"Miss Polly" as she was affectionally known, was a childcare provider having worked for numerous families in Bath County. She was a member of the Mountain Grove United Methodist Church and the Mountain Grove United Methodist Women where she served as secretary for many years.
She was married to the late Buford Neal Keyes, who preceded her in death in October 1991, and John "Johnny" Willis Chestnut, who she married on September 26, 1997 and preceded her in death on July 25, 2015.
She is survived by five children, Margaret Torr of Stirling, New Jersey, Joseph Keyes & wife Kathy of Hot Springs, Shirley Lytwyn & husband Peter of Naples, Florida, Debbie Javins of Covington, Virginia, and Sandra Keyes of Galax, Virginia; seven grandchildren, Billy Keyes, Adam & Ian Lytwyn, Alston & Weston Keyes, Nick Javins & wife Valerie & Alex Javins & fiancé Kate Walton; 3 great grandchildren, Michael Keyes, Matthew Keyes and Madison Lynn Javins; five brothers, Robert "Jim" C. Bird of Las Vegas, Nevada, Benny Bird of Arlington, Virginia, Pete Bird & wife Ann of Lancaster, Ohio, Dwight Bird & wife Cathy of Orlando, Florida, Danny Bird & wife Jamie of Covington, Virginia; five sisters, Aldene Fry & husband Basil, Peggy Smith & husband Winfred, Betty Harold, Carol Martin & husband Greg all of Hot Springs, Phyllis Livesay & husband Bob of Lewisburg; two sisters-in-law, Pat Byrd and Patsy Bird both of Hot Springs; and numerous nieces, nephews and cousins.
In addition to both husbands, she was preceded in death by a son, Jeffrey Neal Keyes who preceded her in death on April 15, 2008; a grandson, Joey Keyes; two brothers, Mack Bird & Richard Byrd; two sisters, Joyce Polane and Libby Hopkins; and a son-in-law, Tony Torr.
A funeral service will be conducted at 2:00 p.m., Tuesday, March 9, 2021 at Mountain Grove United Methodist Church with Reverend Dick Boyer officiating. Interment will be in Mountain Grove Cemetery.
Pallbearers will be family & friends attending the service.
Memorial contributions may be made to The Mountain Grove United Methodist Women, c/o Sharon Gibson, 25 Gatewood Drive, Warm Springs, VA 24484.