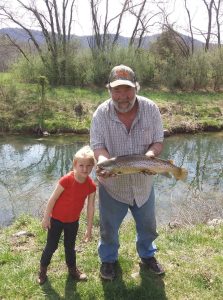 Travis Jason "Big Bear" Moats, Sr., 60, of Warm Springs, Virginia, passed away Tuesday, August 8, 2023, at VCU Hospital in Richmond, Virginia.
He was born March 3, 1963, in Hot Springs, Virginia, the son of Virgil Lee Moats and Brenda Darlene Welch Moats.
Jason was employed as a driver with Jack's Trash Service. "Big Bear" was an excellent mechanic who was able to fix anything. He loved to fish and hunt, and in younger days, he enjoyed riding his motorcycle. He would spend time with his family and friends just talking and visiting. He was a loving father and grandfather.
He is survived by two children, Travis Moats, Jr. & wife Victoria, and Kayla Moats all of Hot Springs; two grandchildren, Payton Moats and Liam Moats both of Hot Springs; two brothers, Todd Moats of Hot Springs, and Troy Moats of Florida; and the mother of his children and former wife, Natalie Moats of Covington, Virginia.
A Celebration of His Life will be held 2:00 p.m., Sunday, August 20, 2023, at McLaughlin & Young Funeral Home. The family will receive friends immediately following the service at the home of Russ and Trudy Woodzell.
Memorial contributions may be made to the Doris L. Via Cancer Fund, P.O. Box 174, Hot Springs, Virginia 24445.
Arrangements are being handled by McLaughlin & Young Funeral Home. Online condolences may be made to www.mclaughlinandyoung.com