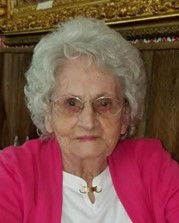 Our wonderful mother and grandmother, Wanda Hall Clark, 91, of Millboro, Virginia went to be with the Lord on Saturday, February 4, 2023.
She was born September 19, 1931, in Millboro in the same home where she raised her family and spent her final days.
She was the daughter of the late Guy Francis and Stella Stephenson Hall.
She was a graduate of Millboro High School where she was nicknamed "Snooks" and was an avid basketball and softball player.
She passed that love of sports to her children and grandson, where at times coached a daughter in the first Little League Girl's softball league in Bath County.  She loved watching her son and husband play with the local Fairview Citgo Men's softball team and played recreation league softball herself with her daughters into her late 50s.
Watching her grandson play at all levels of baseball brought her great pride and joy.
She was a fan of the Atlanta Braves (in the 90s), Bath County Charger sports, and loved chaperoning band trips.
She was a retired employee of the Bath County Commissioner of Revenue office.
She was a past elder of Windy Cove Presbyterian Church, where she also cooked for the youth club.
In addition to her parents, she was preceded in death by her husband William Edward Clark, sisters Norine Hall, Emily Hall Coleman/Winfred, and her brother James P "Buddy" Hall/Doris.
She is survived by her 4 children, Sherry D. Clark of Mesquite, Texas, Charles E Clark (wife Lisa) of Mascot, Virginia, Terri L Clark of Charlotte, North Carolina, and Judith C. West of Gloucester, Virginia; one apple of her eye, grandson William Hunter West of Gloucester; and a sister, Anna Hall Higgins of Waynesboro, Virginia.  Also greatly missed by "Buddy" the Cat.
Thank you to the support from the Fairview Community with special thanks to Frances Brinkley, Dale Loan, Mike Tennant, Grover Ford, Derek Brinkley, and the late Blanche Madison for their support over the years.
Thanks also to Kim Rexrode, Bath Respiratory, and Gentiva Hospice for the compassion shown to our mother.
A funeral service will be held 2:00 p.m., Wednesday, February 8, 2023, at Woodland Union Church with Reverend Robert Sherrard and Reverend David George officiating. Burial will follow in Woodland Union Church Cemetery.  Active pallbearers will be Rodney Higgins, David Higgins, Billy Madison, Danny Madison, Dale Loan, and Mike Tennant. Honorary Pallbearers will be David Ball, Randy Tomlin, Grover Ford, Greg Loan, and Frankie Brinkley.
The family will receive friends one hour prior to the start of the service from 1:00 – 2:00 p.m. at the church, and at Fairview Community Center after the burial.
The family suggests memorial contributions be made to Millboro Area Rescue Squad, PO Box 295, Millboro, VA 24460.  Additionally, since our mother and grandmother never met a cat or dog she wouldn't feed, donations can also be made in her memory to Bath Animal Welfare Foundation, PO Box 716, Hot Springs, Virginia 24445.